License plates have evolved into cheap advertising platforms for states. Drivers end up paying to have tiny mobile tourism billboards attached to their cars (think the auto-wrap advertising idea in reverse). We have "Georgia ... on my mind", Louisiana has "Sportsman's Paradise" and Alabama has replaced "Heart of Dixie" with the curious "Stars Fell on Alabama" (it's a reference to an Ella Fitzgerald song, but stupid nonetheless).
I had a friend in high school who moved from Wyoming, and his tag had this cool cowboy-on-a-bucking-bronco logo. I thought that was pretty brilliant. Says pretty much everything Wyoming wants you to know without some contrived "Wyoming - we got horses" slogan.
But as I was making my way home Tuesday, I got behind a car with Pennsylvania tags. I remember seeing "Keystone State" on their tags in the past, but this one was different. No "Keystone State", "Hey, look at the funny Amish people" or "Parts of the state are clean!" slogans. The tagline - so to speak - was:
www.state.pa.us
Apparently Pennsylvania is putting all their marketing eggs in one basket - hoping I'll be so intrigued that I'll just have to punch up www.state.pa.us when I get home. (OK, so I did ... but only for research).
What do you find at www.state.pa.us? Apart from some bizarre web design (the navigation has a fade-out effect that made me think my monitor was dying), you get the standard links to "top news" such as "Governor Rendell Appoints Robert B. Miller Jr. as the Governor's Sportsmen's Advisor", government agencies, and specialty websites (my favorite is the Falcon Cam - a whole site build around some falcons that roost on a state building in Philly).
Not surprisingly, this move was made in late 1999, just at the height of Internet hysteria. Seems then-Gov. Tom Ridge was sucked into dotcom fever (the new governor is pushing his "plan for a new Pennsylvania", so I guess he's managing the turnaround after the VC money dried up and Ridge had to put the state's IPO plans on hold).
The really odd thing is that the state choose www.state.pa.us as the URL for their tag. First off, that's the standard government-assigned homepage all states get, so it's fairly easy to figure out how to get their on your own. Secondly, why would I want to visit www.state.pa.us? I might go to www.pennrocks.com or www.seetheamish.gov, but the state government's homepage? Weak.
It turns out West Virginia has also added a URL to their tag recently, but their URL is the more marketing-focused www.callwva.com (which begs the question - if your URL has "call" in it, why not just print a 1-800 number instead?) and it was added in the plate's header, leaving the pretty cool "Wild, Wonderful" slogan intact.
Pennsylvania actually brands www.state.pa.us as "PAPowerPort" (yes, they have it trademarked), and they own www.papowerport.com, although it's a dead-end URL. So maybe www.PAPowerPort.com on the tags? That's lame, too.
BUT, the state operates www.ExperiencePA.com as their tourism site. Hey, there's an idea.
My exhaustive research led me to a site showing
license plates through the years
for all 50 states. You can see how plates turned from simple vehicle identifiers to marketing tools in the mid-1980s. I think it would be pretty cool for a state to come out with a "throwback" license plate from 1969 or something.
I think my favorites have to be New Hampshire, which has managed to keep it's rockin' "Live Free or Die" slogan alive in this age of political correctness:
... Idaho, whose slogan is "Famous Potatoes" but recently added a script "Scenic" in front of the "Idaho" up top, to let everybody know that the famous potatoes are pretty cool to look at: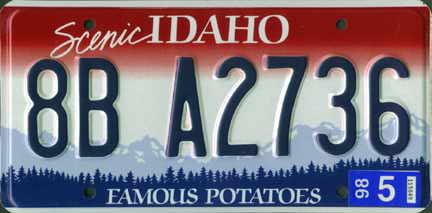 ... and Washington DC, which changed its slogan from "Celebrate & Discover" to "TAXATION WITHOUT REPRESENTATION" in 2000 to protest the lack of support for its statehood: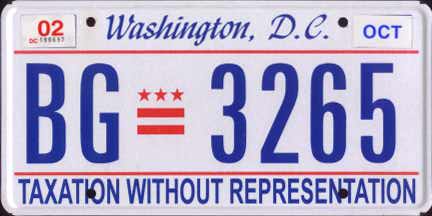 I think that's a pretty interesting precedent. License plates as political speech on behalf of the entire state. Maybe Mississippi could change its plates to "Vegas Sucks!" to help promote its casino industry. Or Georgia could have "We're not last in education ... Alabama is!" on its tags.